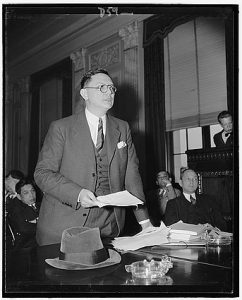 Salvador Z. Araneta
Salvador Z. Araneta (January 31, 1902 – October 7, 1982) was a Filipino nationalist, constitutionalist, politician, civil servant, lawyer, educator, economist, businessman, industrialist, environmentalist, and philanthropist. He was a member of the Philippine Constitutional Convention of 1933 and 1971 and founder and twice president of the Philippine Constitution Association. Araneta served as Secretary of Economic Coordination under President Elpidio Quirino, Secretary of Agriculture under President Ramon Magsaysay, and as member of the National Economic Council.
As an educator, and along with his wife Victoria Lopez de Araneta, he founded the Araneta Institute of Agriculture (later to become De La Salle Araneta University) , the first private agricultural school after World War II.  He endowed the university with one sixth of his personal wealth and turned it into a foundation.
Salvador and Victoria also founded the Far Eastern Air Transport Incorporated (FEATI), the first airline in the Philippines flying the Iloilo-Manila-Hong Kong route.  The Aranetas decided to close the airline but adopted its name as part of a school they established on March 6, 1946 and named it the FEATI Institute of Technology (FEATI University). The educational institution focused on the fields of engineering and technology.
Araneta pioneered in the flour industry (RFM Corporation), in soybean extraction (Republic Soya), in the manufacture of electric motors (Feati Industries), animal feeds (AIA Feed Mills), animal vaccines (AIA Biological Laboratories). He was co-founder of NEPA (National Economic Protectionism Association), PRRM (Philippine Rural Reconstruction Movement), and the White Cross, an orphanage.
Araneta dedicated his life to uplift the moral and social values of society and sought property ownership and capitalism for all. These he embodied in a draft constitution, the Bayanikasan Constitution published in 1980 to be adopted in 10 to 20 years.